Welcome to Java Island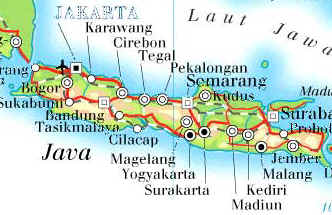 ---
Java island has 6 provinces, they are:
Fast Fact about Jakarta:
Capital: Jakarta Rivers: Ciliwung, Malang, Angke, Cideng, Sunter, Kamal, Sodong, Krukut, Sentiong, Buaran, and Pasanggrahan. Flora: The sawo kecik fruit, jack fruit and the cempedak jack fruit. Food Crops: Rice, corn, cassava, peanut, vegetables and fruit. Fish Products: Sea and fresh water fish. Industry: Indonesia's largest industrial site. Tourist Attractions: Taman Mini, TIM, Jaya Ancol Dreamland, The National Monument, Central Museum, Jalan Surabaya, Jakarta Museum, Sunda Kelapa, Pulau Seribu (the thousand islands) The Wayang Museum, Ragunan Zoo.

Fast Fact about West Java:
Capital: Bandung. Rivers: Ciujung, Cidurian, Cipanten, Cipasuruan, Cibungur, Cibaliung, Ciliwung, Cisadane, Cipurian, Cimanuk, Citanduy, Cimadur, Cisangkuy, Citarus, etc. Mountains: Tangkuban Perahu, Gede, Ceremai, Pangrango, Galunggung, Salak, Tampomas, Papandayan, Guntur, etc. Lakes: Situ Bagendit, Situ Gede, Situ Panjalu, Situ Pangalengan, and several artificial lakes such as the huge dams of "Jatiluhur", "Saguling", "Cirata", and the "Dharma" water reservoir. Flora: Areca, betel, pandanus, herbs and the red archanger. Fauna: panther, tiger, wild buffalo, deer, bird species, various species of monkeys, snakes and wilboar . Food Crops: Rice, corn and peanuts. Commercial Crops: Coconut, clove, rubber, cacao, tea, oil palm, sugar-cane and coffee. Fish Products: Tuna, skipjack tuna, barramundi, shrimps, anchovy, giant gouramy, common carp, milk fish and tilapia. Mining: Petroleum, LNG, gold, manganese, iron, coal, limestone, clay, gypsum and marble. Handicraft: Ceramics, umbrellas, cloth weaving, wood carving, slippers, mats and decorative lamps. Tourist Attractions: Mang Udjo Angklung Workshop, Maribaya, Nusantara Aircraft Industry, Patenggang Lake.

Fast Fact about Banten:
Capital: Serang. Population: approx. 7 million. Physical Features: This province is composed of coastal and hinterland areas along the north and northwest coasts of Java. It was formed by taking the western section of greater Jakarta Tangerang:which is one of Indonesia's most industrialised areas and marrying this up with the industrial areas of Ciligona newer highly industrialised area on the tollroad to the port of Merak:which also has a highly developed industrial area served by this major port between Sumatra and Java. This is the area for really heavy indutry like steel and petrochemicals as the coal from South Sumatra is shipped to Merak Industrial Estate as a power source. The hinterland areas include some of the leasts developed parts of Java in which are found the Badui people who until now have lived a secluded existance. The Sudanese language is commonly used in this area. Recreation:The toll road which passes pleasantly though the industrial estates and facilitates travel to the Merak port has led to the development of a huge weekender and recreation hotel area along the western coast and centered around Anyer. Literally miles of holoiday - weekend facilities are available for the recreation of the Jakarta population. Ujung Kulon National Park : This wonderful park is located on the North-western tip of Java and houses some remarkable birds and animals as well as abundant plant and marine life. Flora:Teak, Accacia, Meranti, Mahogany, Eucalyptus, Pine, Coconut, Rubber, Durian, Banana and various other trees. and various kinds of orchid including "anggrek bulan" or white orchids. Fauna: The one horned Rhinocerous which is a threatened species is still found in the Ujung Kulon National Park .Wild pigs, various snakes and pythons, Tigers, Monkeys, lizards, butterflies, various birdsExports: Heavy industrial Steel Plastics Cement Petrochemical . Food Crops: Rice, corn, peanut and soybean. Commercial Crops: Coconut, clove, cacao, coffee and tea. Fish Products: Tuna, skipjack tuna, barramundi, shrimp, anchovy, travelly, mackerel and garfish. Forest Products: Rattan, resin, log, processed wood and eucalyptus. Tourist Attractions:Ujung Kulon National Park Anyer coast.

Fast Fact about Central Java:
Capital: Semarang. Flora: Teak, pine, agathus, sonokeling, mahogany and "sawo kecik". Exports: Shrimp, rubber, coffee and teakwood. Food Crops: Rice, corn, peanut and soybean. Commercial Crops: Coconut, clove, rubber, coffee, cacao and tea Fish Products: Tuna, skipjack tuna, barramundi, shrimp, anchovy, milk fish and tilapia. Forest Product: Resin, log and ebony. Handicraft: Wood carving, ceramics, cloth weaving, umbrella and bamboo plaiting.

Fast Fact about Yogyakarta:
Capital: Yogyakarta. Rivers: Opak, Progo, and Oya are the largest rivers Mountains: Merapi, Panggung, Semilir, Butak, Sudimoro Flora: Fern, kemuning (Murraya paniculata), kaliandra (Calliandra haematoce phala), gebang (Corypha utan), quinine, eucalyptus, teak, herbs, fennel, coffee and the castor oil plant. . Fauna: Various bird species, wild cat, porcupines, otters, civet cat, mouse, deer, panther, and wild boars.Food Crops: Rice, corn and peanuts, soybeans and green peas. Commercial Crops: Coconut, kapok, tobacco, coffee, cacao, and sugar cane. Fish Products: Shrimps, gouramy, yellow-tail, anchovy, and common carp Forest Products: Cayuput, kesambi, rimba, jati, murbei. Exports: Atsiri oil, leather, handcloves, silver, leather works, ceramic and textiles.Industries:Batik printing, silk, yarn, foodstuffs, basketry, and other plaited ware, brassware, and weaving. Light Industry: Hand-printed batik, batik dyestuffs, cosmetics, ceramics, plastics, leather tanneries. Tourist Attractions:Malioboro shopping center, palace of the Sultan, Taman Sari, Sono Budoyo Museum, Kota Gede (silver carving), Parangtritis and Samas beaches, Kaliurang Hill Resort, and the Prambanan and Kalasan temples, Selarong cave, Gembira Loka Zoo and Fort Vredenburg.

Fast Fact about East Java:
CAPITAL: Surabaya. MOUNTAINS: Welirang, Semeru, Argopuro, Bromo, Anjasmoro, Kelud, Merapi and Lamongan. LAKES: Sarangan and Karang Kates. FLORA: Teak, "kesambi", pilang pinus, eucalyptus, mahoggany, bulbophyllum orchid, canarium vulgare (kenari), "keben", candlenut, quinine, sandalwood, "leban", kenanga (Canaga odorata), "rasamala", "sonokeling". FAUNA: Java tiger, Bawean tiger, kancil (Tragulus pygmaeus), wild fowl and grey monkeys. EXPORTS: Rattan, plywood, sawn timber, wood working, shrimp, V.0. and N.O. tobacco, garment, coconut oil and animal leather. FOOD CROPS: Rice, corn, peanut and soybean. COMMERCIAL CROPS: Coconut, clove, rubber, cacao, tea, and coffee. FOREST PRODUCTS: Rattan, resin, incense, log, and ebony. MINING: Petroleum, LNG, coal and tin. TOURIST ATTRACTIONS: Surabaya Zoo, Tretes and Selecta hill resorts, Wendit and Sarangan lakes, Ngliyep and Pasir Putih beaches, Trowulan historical museum, temples of Penataran and Singasari, Ijen crater, Kesodo ceremony of the Tengger people on Mount Bromo, Blauran hunting game park, bull racing (karapan sapi) on Madura Island, Mount Bromo, Empu Tantular Museum, Trinil Museum and Brawijaya Museum. .