Welcome to Irian Jaya Island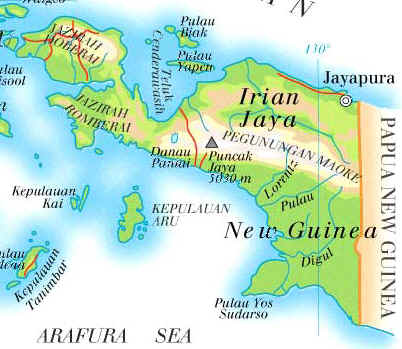 Fast Fact about Irian Jaya:
Capital: Jayapura. Physical Features: This province is made up of half of the entire island of Irian (Guinea). The area is covered by a mountain range with steep slopes and vast alluvial low land plains. Travelling is difficult at times. Rivers: Digul, Memberamo, Warenai, Waipoga, Maro, Kamundan, Abais, and Kumbe. Mountains: Jayawijaya with Jaya Peak, Trikora, Yamin, mountain range of Kaimana in Fak-Fak, mountain range of Arfak in Manokwari, mountain range of Ciklops in Jayapura. Lakes: Sentani, Ronbebai, Anggi Gita, Paniai and Tigi. Flora: Metroxilon, rhizopora, casuarina, and araukaria. Fauna: Marsupials, phallangers, macropus, petaurus, paradise birds, casuarius, parrots, cockatoos and crocodiles. Food Crops: Rice, corn, peanut and soybean. Commercial Crops: Coconut, clove, rubber, cacao, coffee and nutmeg. Fish Products: Tuna, skipjack tuna, bastern little tuna, anchovy, shrimp, mullet, common carp and tilapia. Forest Products: Rattan, resin, log, sawn timber and mangrove wood. Mining: Petroleum, copper ,gold and LNG. Handicraft: Carving and plaiting. Tourist Attractions: Lake Sentani, Biak, The Asmat, Balien Valley. Indonesias only snow covered mountain range.