News
Kompas
Media Indonesia
Liputan 6
Jakarta Post.com
Indonesia Post
Jurnal Indonesia
Pelangi
Investor Indonesia
Government
BPEN
BPS

Fast Fact about

Sumatra
Kalimantan
Jawa
Sulawesi
Irian Jaya
Bali
Maluku
Nusa Tenggara
Miscellaneous
Indonesia History
Indonesian Food Recipe

Doing business in Indonesia
Business Partner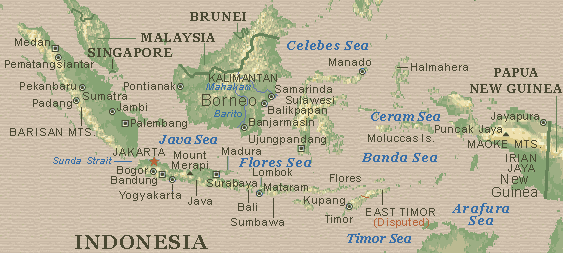 (Please click each island to display fast fact about it)

Welcome to this site ! This is an essential website for the business person who plans to travel, do business in, and/or live and work in Indonesia.
This website will provide all the necessary cultural and social information to help make your business and personal dealings in Indonesia become productive, satisfying and successful.
This website is jam-packed with vital information on such aspects as: the social and cultural background of Indonesia, how to understand differing inter personal communication styles and non verbal signals in Indonesia and react appropriately, the hierarchical nature of many Indonesian companies who you should be talking to and how to approach them, the importance of socializing and dining out to establish a good relationship with your potential business partner, things to avoid in Indonesia, issues and problems faced by expatriates on Indonesia.